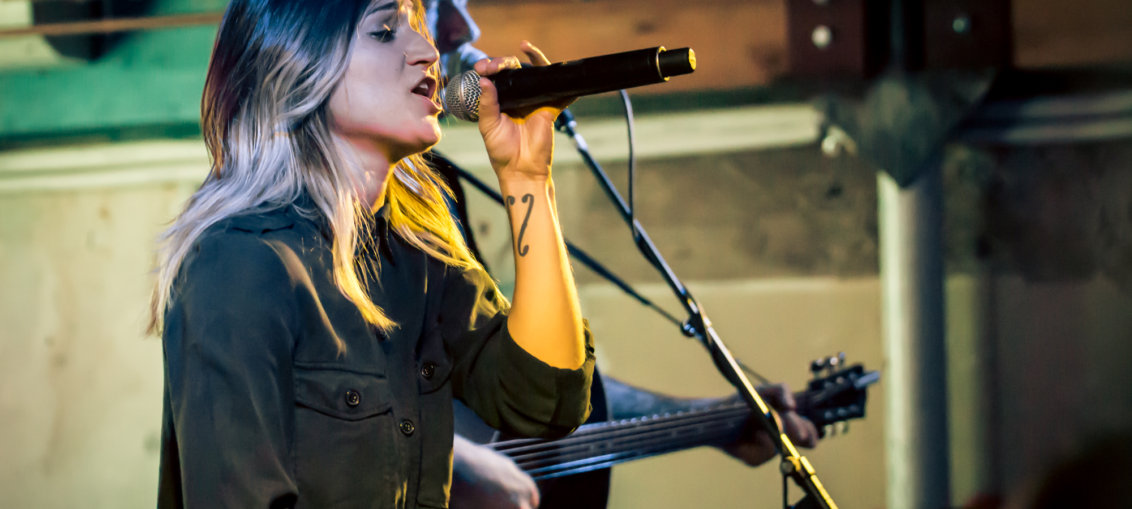 Photos and review by: Jason Robey
PHOENIX, AZ — Austin indie folk rockers The Wind + The Wave returned to Phoenix Monday night to perform for an enthusiastic crowd at the Valley Bar.
The night kicked off with an hour of music from Portland, OR songwriter, Haley Johnsen. Performing solo, with a tambourine strapped to one foot, the other one tapping a kick-drum like pedal, Johnsen strummed and sang several songs from her debut EP, Through the Blue, as well as a handful of newer songs from a forthcoming album. Johnsen showed off her beautifully smooth and powerful voice on songs like "Let's Go to the Moon," "When I Loved You" and her crowd-pleasing take on Heart's "Crazy On You."
This was the third appearance in as many years for The Wind + The Wave, playing to bigger fanbase each time. Touring in support of their second full-length album, Happiness Is Not a Place, the group treated the audience to 15 songs over a 70-minute set. Starting off with "My Mind Is An Endless Sea," a dark, subdued track, set to low, blue mood lighting, they quickly went into a string of upbeat, energetic songs from the new record and their 2014 debut, From the Wreckage.
The band, officially made up of Patricia Lynn on vocals and mandolin and Dwight Baker on guitar and background vocals, brought a drummer and second guitarist/keyboardist on this tour. They kept the energy up throughout the evening, keeping the audience singing along to fan favorites like "It's a Longer Road to California Than I Thought" and the recent single, "Grand Canyon," while taking the time to joke around with the crowd between many of the night's songs. For their encore, they treated the room to their take on R. Kelly's "Ignition," from their 2015 covers EP, Covers One.