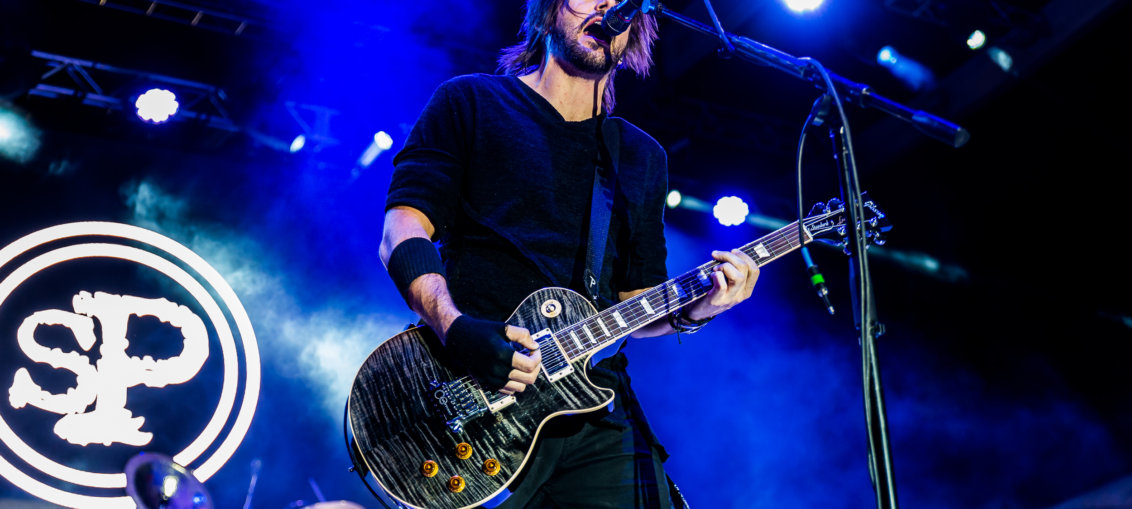 Article and Photos By: Abigail Buckler
Las Vegas, NV
Rock Into Spring was a three day music and tattoo festival taking place at the pool of the M Resort and Casino.  Billed as having 22 bands and 10 different tattoo artists people were interested to see what the event would bring.
Starting with the tattoos. There was a tattoo village set up where people could go get tattooed by some of the best Las Vegas has to offer including many who had appeared on the reality TV program Ink Master. A few people did take advantage of this service and for those who did it was a great opportunity since it is often difficult to book appointments with artists of this caliber.
The music the lineup was diverse with headliners Buckcherry, Art of Anarchy and Sick Puppies on their respective nights.  Each of these bands really delivered.  Buckcherry was a great way to close the first night of the festival with their catalog that has mass appeal. Despite it being cold at the pool by this hour, the band and Josh Todd gave a classic performance with Todd playing the tambourine and controlling the stage in his signature way.  Art of Anarchy headlined night two.  Unfortunately they followed Las Vegas based Adelita's Way who had to cut their set short due to some technical difficulties which disappointed the crowd a bit.  Art of Anarchy is a super-group if you want to use that word, with metal powerhouses like Ron "Bumblefoot" Thal of Guns N Roses and John Moyer of Disturbed.  If you get a chance to see this band go for these two alone, and the intimate crowd got to see something special up-close with Bumblefoot playing his signature two neck guitar.  Sick Puppies closed the festival on night three and for those who didn't have to work early the next morning they saw an amazing set.  The energy from this three piece was infectious and while many thought Buckcherry was going to be the highlight of the weekend most people I heard say Sick Puppies delivered the best set of the festival.
Rounding out the other 22 bands, there was a variety of newer and more established acts including Alien Ant Farm, Bobaflex, Eve to Adam, Shallow Side, American Grim, Artifas and many more.  There was a great variety and bands like Artifas and Shallow Side really impressed the crowd with their sets.  Shallow Side even included a mash-up of covers that was diverse from Michael Jackson to Eminem and it was one of the highlights of the night.  These bands are all out on tour at this point and if they come to your town you should definitely check them out.
This festival has potential and the venue was great, along with the concept; a rock and tattoo festival pool party, so it should continue to develop in future years.  Unfortunately there were a few technical difficulties that occurred. There were a couple power outages which resulted in a few bands cutting their sets short.  I believe this was due to the ambitious schedule they set trying to keep to 10 minute set changes.  That is something that can definitely be overcome if they choose to hold this event again.  The other disappointment was Trapt pulling out of the third night, but the schedule was adjusted to add another DJ and I do not think the crowd missed out.  It's a great idea and tickets were a bargain for all the bands that performed. This was the first time this venue has tried to hold an event of this size, I hope they do some more one or even two day events in the future to keep growing.  It is always nice to see another local music venue.