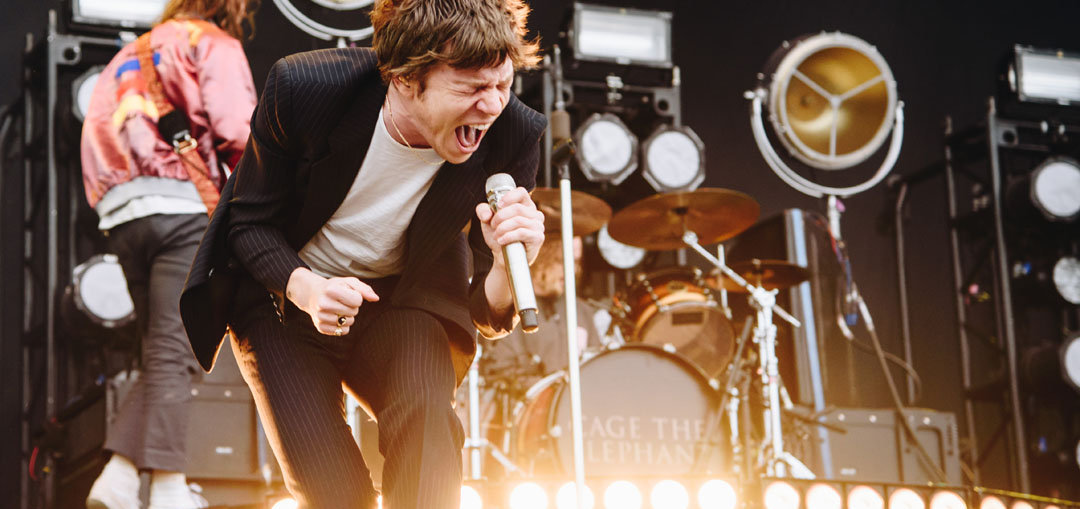 Article and Photos by: Richard Knowles
Trying to put into words the essence of Boston Calling is not an easy task. Sure, I can sit here and talk about the bands and the killer sets they all put on (which I will), but it's more than that. For me it's about the bonds I've made with my fellow photographers, the staff and the friends who joined me for the weekend. It's an escape from the 9-5 and an experience not to be missed. This years lineup really put Boston Calling on the map in the festival realm and it totally lived up to the hype. Thousands of people poured in the gates each day with high hopes and expectations and from my point of view and the people I've talked to, nobody left disappointed.
The forecast for Friday was less than ideal with rain on the horizon but that didn't stop people from piling up at the gates eager to get in and check out the new venue and hop on the hype train that is Chance The Rapper. The Chicago born rapper has been taking the charts by storm and putting the rumors to bed that hip hop is dead. If you stayed through the downpours you were fortunate enough to watch as he delivered a heart pounding performance full of pyrotechnics and an energy that was palpable throughout the crowd. He was the perfect headliner to lift the rain soaked spirits of the audience and deserves a massive amount of recognition as a truly great artist and entertainer. Leading up to Chance's set Bon Iver delivered a signature haunting and enchanting performance while Sigur Ros delivered one of of the most visually stunning sets of the weekend. I think it's safe to say that the set from Mac DeMarco caught a lot of people off guard, or at least it did for me not knowing much about him, but this man is an entertainer and it showed.  He owned the stage both off and on, as he later jumped into the crowd and surfed his way into one of the best sets of the evening. Boston based Vundabar also packed a mighty punch and took opening honors which segued for dynamic performances by Deerhoof, Xylouris White, Lucy Dacus, Whitney, Francis and The Lights, the always entertaining Sylvan Esso and hip hop megastars Migos. Weather aside, Friday night really set the tone for what was going to be one hell of a weekend.
Saturday brought the sun with it and also a lineup that I was very interested to check out. I hadn't personally listened to a lot of the acts performing but that made for a great day as acts like Tkay Maidza, Strand Of Oaks and one of my personal favorites from the day, Oh Wonder, delivered great performances while also gaining a ton of new fans, including me. With so many performances happening throughout the day and set times overlapping it's hard to catch everyone, so decisions have to made on the fly. I chose to catch the Danny Brown set on the blue stage while Brandi Carlisle was obviously killing it on the green stage. (She always does.) Danny Brown is just too damn good to miss. His energy is incredible and he was easily one of my favorite acts of the weekend. He's constantly smiling and truly enjoying the moment he's been given, and that resonates throughout the audience.
As the day was moving forward it was Tegan and Sara's turn to take control of the red stage, and boy did they ever. I had been hearing great things about their live show and everything was spot on. They had a super fun stage setup with balloons and are truly in sync with one another on stage which creates a great vibe for the audience. Nathaniel Rateliff took the green stage as the sun was coming down and like a real "son of a bitch" brought the heat, shook his feet and proved why he and the band are a true "must see" band live. The night was quickly nearing its end and with it came an absurdly good performance from the XX. I had yet to see this band perform live and honestly if I had my choice I would've watched it again and again.
Question, what makes thousands of girls go absolutely crazy? I can tell you — it's Matty Healy, frontman of The 1975. You could hear the screams of the ladies in the audience from the inside of my grandparents basement in Florida. Yes, he is a handsome man, but it's obviously much more than that. This band is pouring out hit after hit and all the recognition and hype is super well deserved. If you get an opportunity I highly encourage catching their live set. Closing out the night went to Mumford & Sons. I'm not sure this band has a bad song in their catalog. It felt like with each song the crowd grew louder and louder and I'll admit, even I was belting out the tunes from atop the ferris wheel. There are always certain sets that you hear that will leave a lasting impression on your brain and Mumford  & Sons set was one of them. An absolutely fantastic way to end an already memorable day.
Sunday came quick as it always does. The lineup was out of control, whether it was Mondo Cozmo kicking things off right and leaping off his drum kit, PUP delivering a swift kick in the punk rock gut of the audience or Mitski and Hiss Golden Messenger slowing things down while still delivering a hard hitting performance. One thing was for certain, the tone was set. Then came hometown heroes Converge, yes, Converge who came in as relief for Modern Baseball. They took control of the stage, the audience, and put anyone not paying attention on notice. Mosh pits were formed and the crowd went nuts; it was surreal to see a band like that be able to pull so many new people in and give them a taste of the heavy. With the adrenaline coursing through everyone's veins Flatbush Zombies brought their trippy and energetic blend of hip hop in the mix, while Run The Jewels brought the crowd to its feet.
Cage The Elephant was on another level when it came to their live set and the crowd was treated to an absolutely memorizing performance by arguably one of the best live acts on the planet. Major Lazer and Weezer were slotted to play at the same time so I had to make a decision: Do I go and relive my youth, or do I  witness the spectacle that is a live Major Lazer show? I went towards the light… the lazer to be exact, and it was a good choice. The confetti, the dancers, the pyro, and the hamster ball device that Diplo used to walk on the crowd… There was no stone left unturned for Major Lazers' set, which made for a giant party that left the crowd in a frenzy — a crowd already anxiously awaiting the nights headliner, Tool. Tool is another band like Converge who, when accompanied with all the aforementioned bands might seem like a strange fit, but they were more than up to the challenge. Rifling through hit after hit they took control of the crowd and never let go. It had been a long time, maybe 10 years since I had the opportunity to see them perform, and they haven't missed a beat. They were the perfect band to headline the closing of Boston Calling and put on a performance I won't soon forget.
With all the things I could have done on Memorial Day weekend, I can't think of a single thing I would've rather done than spend my time at the best festival around. Boston Calling is only getting bigger and better so before you spend money on a new grill next year, put some money aside, buy a ticket and come hang where the magic happens. Can't wait to see what next year brings!