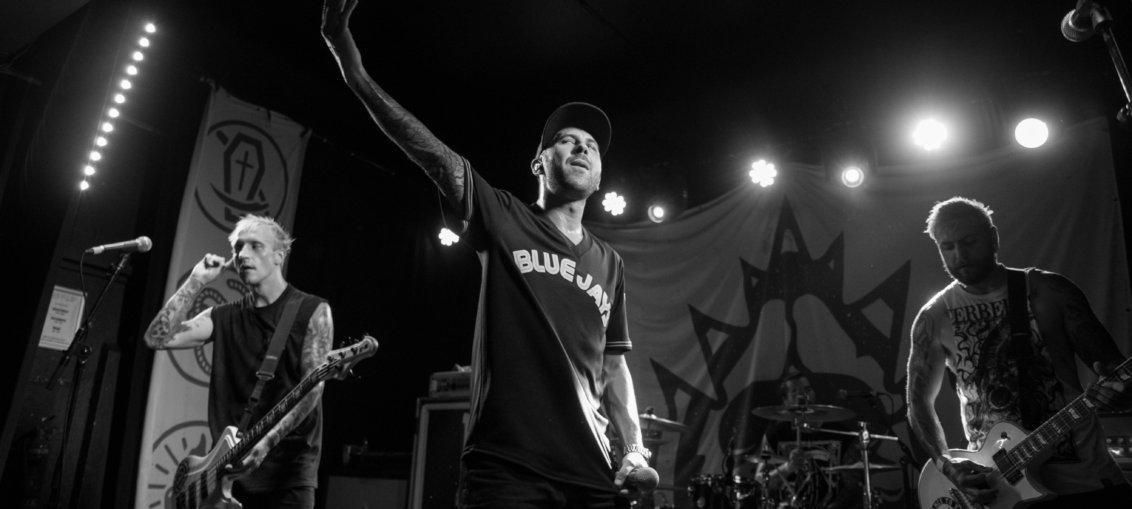 Article and Photos by: Tash Chloe Greene
London, England – Walking into Boston Music Room, the venue was already bustling as Surrey metal-heads Polar graced the stage and began to fuel the fire that was to swallow up the crowd as the evening went on. The 5-piece brought zeal, dynamism and water-spewing galore that enticed all in attendance to sing along, and lead Adam Woodford got up-close and personal with the band's adoring fans by thrusting the mic into their faces and belting out beastly tunes throughout the set. Accompanied by the intensity of guitarists' Fabian Lomas and Tom Green, and bassist Jonny Bowman's beefy melodic sounds while climbing onto the stage front equipment, as well as feisty drummer Nick Jones raising his middle finger in playful defiance mid-set, the band had certainly left their mark on the audience and displayed more than the worth of the support slot that they played.
After Polar had made everyone work up a sweat, the majority of people had a quick breather outside before retreating back in once again, in anticipation for headliners Obey The Brave. Although the performance started off slow in terms of fan participation, the venue was soon warmed up by Alex Erian [lead singer] stomping around and owning the stage; a [successful] attempt at proving his potent, uncompromising presence to the room. By the 3rd song in, head-banging and moshing were aplenty, with all members packing their performance with a punch, especially bassist Cory Wilson, who was alternating between spinning and jumping, and swinging his guitar in the air, amplifying the gig experience that bit more. Crowd-surfing solidified what had been an all-round strong show and a great start to OTB's short stint in the UK, before they headed back further into Europe for the last few days of their tour.