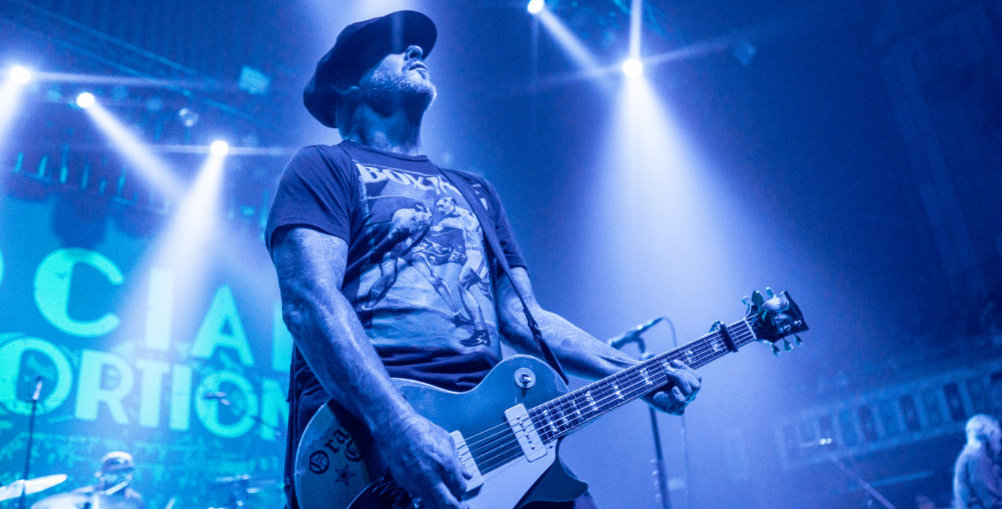 Article and Photos by: Andrés Alvarado
Atlanta, GA – Spanning a career closing in on 4 decades, Mike Ness and his mates of Social Distortion are still a noteworthy rockabilly-punk outfit that garners the attention of the masses. Playing to a wall-to-wall packed Tabernacle venue in Atlanta, the legendary Californian quartet have maintained a reputation of putting on lively and loud shows that attracts flocks of fans of all age groups, or as Ness himself has stated: "I see people bringing their kids to shows, and I see kids bringing their parents." It's that wide appeal mixed with the uncompromising and authentic hard-hitting tunes of Social Distortion that made this night's show one deserving of your undivided focus.
A platform ornately decorated with several mannequin heads and torsos, in conjunction with a killer drum set that proudly displays the band's logo (a skeleton man in a hat with a martini and smoke in hand) keep the onlookers company in anticipation of what's to come. The clock tick-tocks its way to twenty after nine in the evening when the lights at the gorgeous Tabernacle stage go dim and suddenly a giant banner slowly descends to form a background consistent of two eye-popping words: Social Distortion.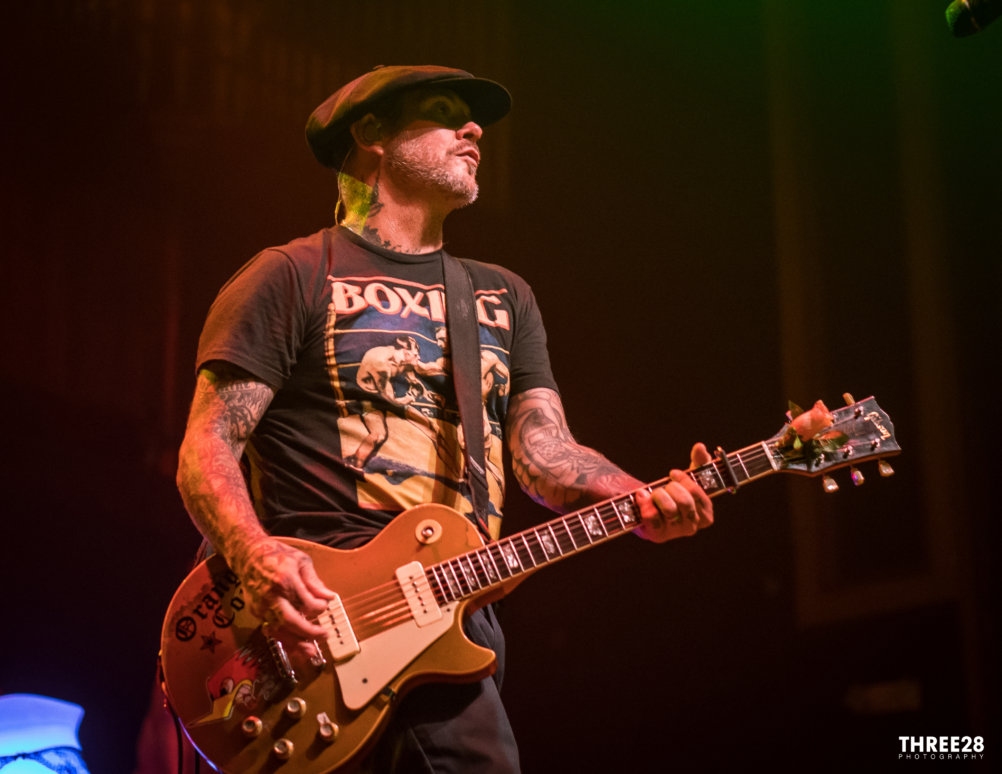 After a voracious entrance, Distortion go at what they do best: burst eardrums and kick ass. On stage, the quartet are not a flashy bunch, but an incredibly talented one not afraid to let their music do all the talking and walking. The Social Distortion gang are not ones to jump around and head-bang like madmen, instead their thumping bass and melodic string-play pair fittingly with their sturdy drumming to cook-up an atmosphere that welcomes all to drop their worries and take a crack at swaying your hips or put an arm around your neighbor to bellow out some lines. Ness' slightly raspy pipes delivering the tales of love, pain, and learned lessons in the form of song to suck-in the listener and enthrall the senses like few can. In every practical sense, a Social Distortion show embodies what a memorably fun night is all about. Spanning a career closing in on 4 decades, Social Distortion remains a band's band, a fan unifier, and a music industry staple of cool.
For more on Social Distortion and their ongoing summer tour, head out to their website at www.socialdistortion.com or head over to iTunes or Spotify to groove out to any of their fine melodies or versatile albums.