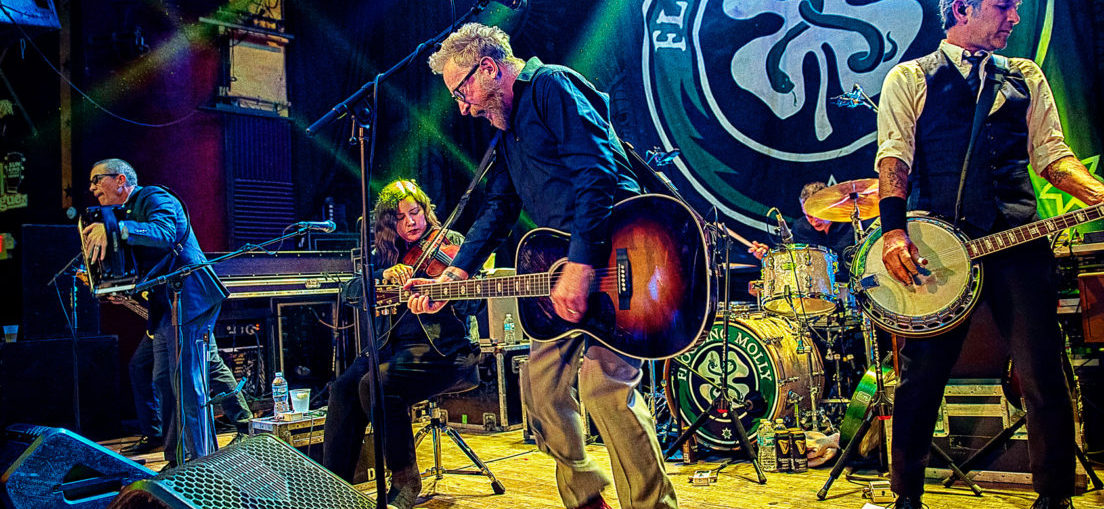 Article and Photos by: Linda Carlson
Indianapolis, IN – The expression, "Everyone is Irish on St. Patrick's Day" needs to be amended to be, "Everyone is Irish on St. Patrick's Day and whenever attending a Flogging Molly concert."  There is no mistaking the Irish in their music music (an abundance of strings, including that telltale violin/fiddle, those beautiful Irish accents and that sound that makes you believe you are in an Irish pub) or the obligatory downing of beer and other bevvies.  There was raucous laughter onstage and off, people bouncing up and down and… moshing?  Yep, Moshing.  That surprised me at an Irish event, but this was no ordinary Irish event…this was Flogging Molly.
Openers Jon Snodgrass and Radkey did a great job warming up the audience.  I was particularly intrigued to hear (and see) Radkey, three young musicians who have a garage band mystique.  They were a perfect blend of 1970s groovy with a 2000's heavy sound, thanks to brothers Isaiah (bass), Solomon (drums) and Dee (lead vocals/guitar) Radke.   Make no bones about it, they were just plain hip and cool.
Of course, the crowd was ready to live it up for Flogging Molly.  This ensemble of seven musicians can work the crowd into a blustering flurry of singing and dancing.  Lead vocalist and guitarist Dave King, violinist/fiddle player Bridget Regan, bassist Nathen Maxwell, guitarist Dennis Casey, mandolin/banjo aficionado Bob Schmidt, accordion/concertina player Matt Hensley and drummer Mike Alonso are seasoned performers who do not seem to tire of the touring routine, which can sap the energy of ordinary people.  But this group…they brought it to full tilt with a full set and encore.
Despite the lively nature of the music, the Life is Good tour is also a reminder to be aware of the social and political decisions being made around you.  According to the band's Facebook page, "The one thing we are is a positive band," adds Dave King. "When people come and see our shows, it's a celebration–of life, of the good and of the bad. And we have to take the good and the bad for it to be a life."
Whatever your background, go see Flogging Molly and be an honorary Irishman / Irishwoman for an evening.  You will not regret it, or your hangover the next day.