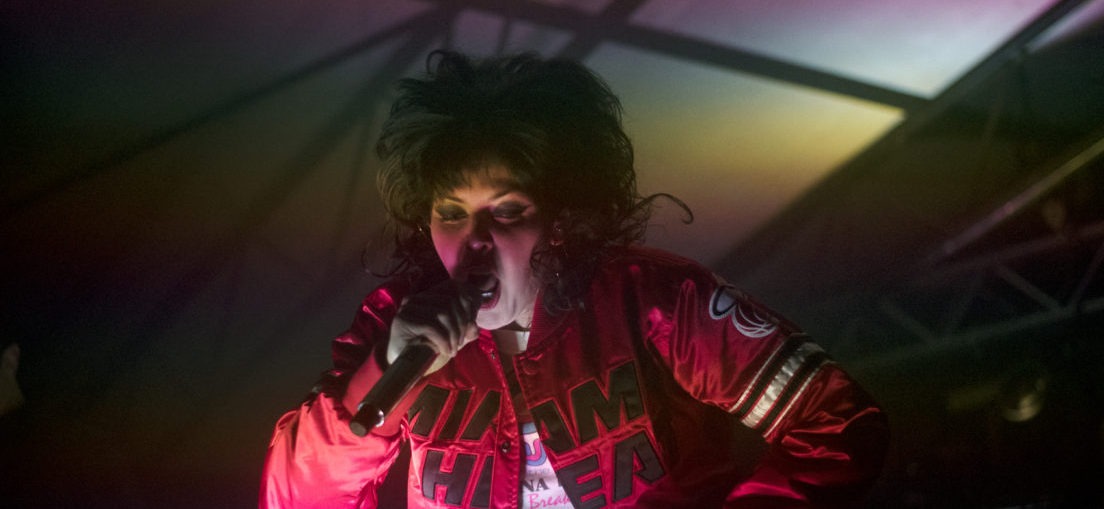 Article and Photos by: Melanie Allen
Austin, TX—A large marquee outside of the Mohawk read "SOLD OUT" and a line of Sleigh Bells and Sunflower Bean fans wrapped around the venue and down the block, eagerly waiting to enter. Sleigh Bells are known for their upbeat, loud, flashy shows—perfect for a Saturday night in Austin.
Openers Sunflower Bean trotted onto the stage giving off bona fide rock 'n' roll vibes. The trio's tender yet punk sound is very unique and sweetly addicting, especially during their live performances. Each member of Sunflower Bean manages to head bang and rock hard, all while keeping hair, makeup, and outfits intact. They are currently promoting their upcoming second studio album, Twentytwo in Blue, out March 23.
The venue went dark and a drone sound played as Sleigh Bells took the stage, remaining ominous and teasing the crowd. Sleigh Bells mans the stage in an unconventional way: only two guitarists, and one vocalist. The rest of the stage remains wide open, so there's plenty of room for dancing and moving around the stage for all members of the band. Sleigh Bells is a noise pop band—this can be gathered from their music, sure, but it is exceptionally true through their live performances. It's hard to look away (in a good way) if Sleigh Bells is performing. Vocalist Alexis Krauss' voice is keen and extremely powerful, and every note plucked on the guitars sounds as electric as possible. Hopefully, for everyone's sake, Sleigh Bells won't be going anywhere any time soon.