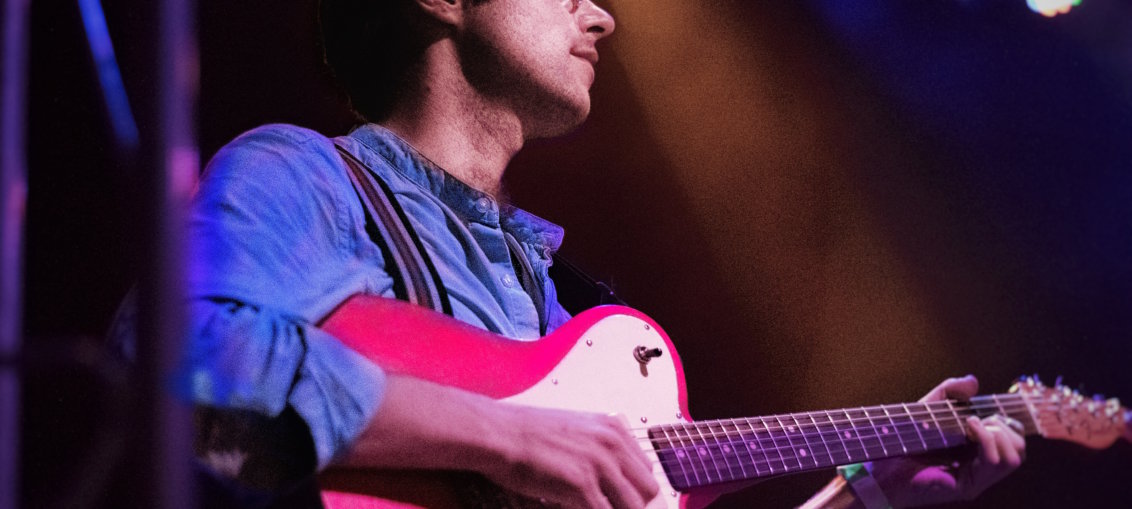 Article and Photos by: Michael W. Bright
Louisville, KY – Real Estate writes and plays music that's perfect if you're falling in love. It works if you're breaking up as well. If you're feeling lighthearted on a spring day it's absolutely appropriate. If you're really down in the dumps, wearing your tortured heart on your sleeve, this band writes songs that offer hope and might perfectly accompany that mood. Let's just call it, EMO-tional music, and not in a pejorative way. Friday night Real Estate headlined the first of two nights of the Forecastle Festival After-Parties at Headliners.
Their music has been called "breeze pop," "dream pop," and a dozen more variations. My "preppie pop," assignation might be the most appropriate and it's certainly authenticated by prep school backgrounds and by new lead guitarist Julian Lynch, who's weaving the tour into work on his third post graduate degree. Preconceived notions aside, Lynch's melodic, adventurous but precise guitar lines set the tone and shape of their midnight set. Touring in support of In Mind, their fourth album dropped in March and was already enjoying familiarity, no, adoration, from the youngish crowd of 250. The first single, and video, "Darling," drew an ovation from the faithful and is in itself a microcosm of Real Estate's style and appeal.
Saturday at midnight The New Pornographers held court on night number two of the Forecastle Festival After-Parties. 500 fanatics crowded right up to the stage edge to share part of the band's Whiteout Conditions tour supporting their seventh and latest album. Although it was disappointing that vocalist Neko Case didn't join the band onstage this night, the band worked that much harder to achieve the level of performance that consistently places the band in the top ranks of indie rock live shows.
The band effortlessly traded styles between the grand and cinematic, "Whiteout Conditions," and the pop rock gem, "High Ticket Attractions," an audience highlight that opened the night's show, a set filled with half a dozen songs from the new album. There were no recovery opportunities, no low points, no decline in the energy.  A surprising level of recognition of the new songs accounted for the animated raised hands, the bouncy formless dancing, and passionate singing by a crowd who should have been rightfully worn out, dehydrated and crashing after the scorching sultry weekend-long festival in Louisville.