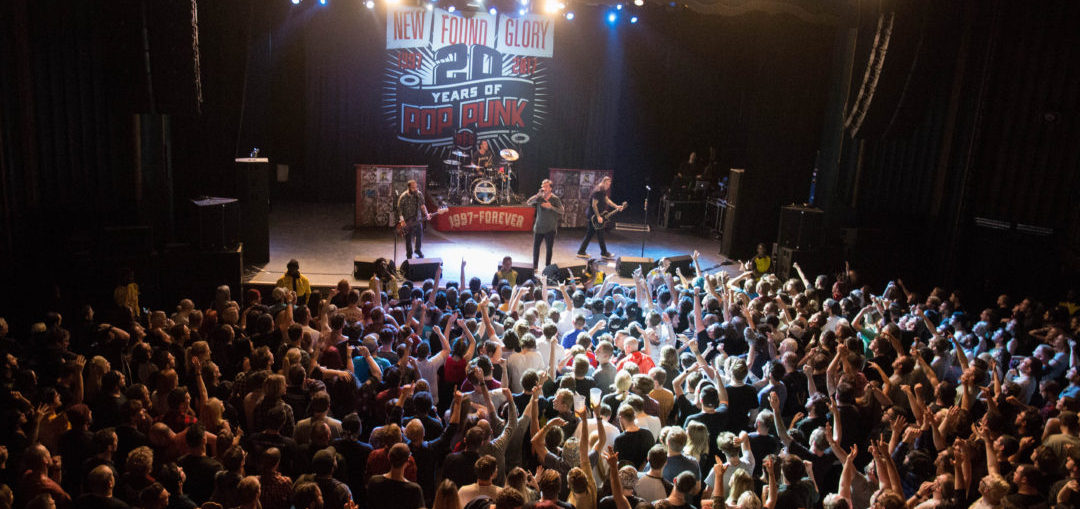 Article and Photos by: Tash Greene
London, England – Pop Punk kings New Found Glory played at O2 Forum Kentish Town to 2,300 adoring fans; the first of 3 sold out London shows for their 20th anniversary UK tour. In true comic style, Rick Astley's "Never Gonna Give You Up" blasted through the speakers as the band entered the stage, followed by a swift transition into song number one, "Understatement", out of a stonking 26-song set.
The atmosphere was electric; fans of all ages and nationalities chanted emphatically, while the Florida-born boys didn't waste a moment on stage, bounding back and forth and pulling faces for the cameras, especially lead Jordan Pundik and bassist Ian Grushka – their energy was more of 20 year old's than that of musicians who had carried this enthusiasm for 20 years!
During "Hit or Miss", McFly's Dougie Poynter surprised the crowd by joining the band and assisting with bass duties, making the evening that little bit more cooler than it already was.
Shortly after, all left the stage and the lights went down. Within moments, NFG's name could be heard filling the venue as the audience demanded an encore. Their persistence paid off and three more songs were smashed out, with the band of course closing a night of pop punk heaven with the glorious "My Friends Over You," an obvious and perfect choice to get the fans pumped up one final time!