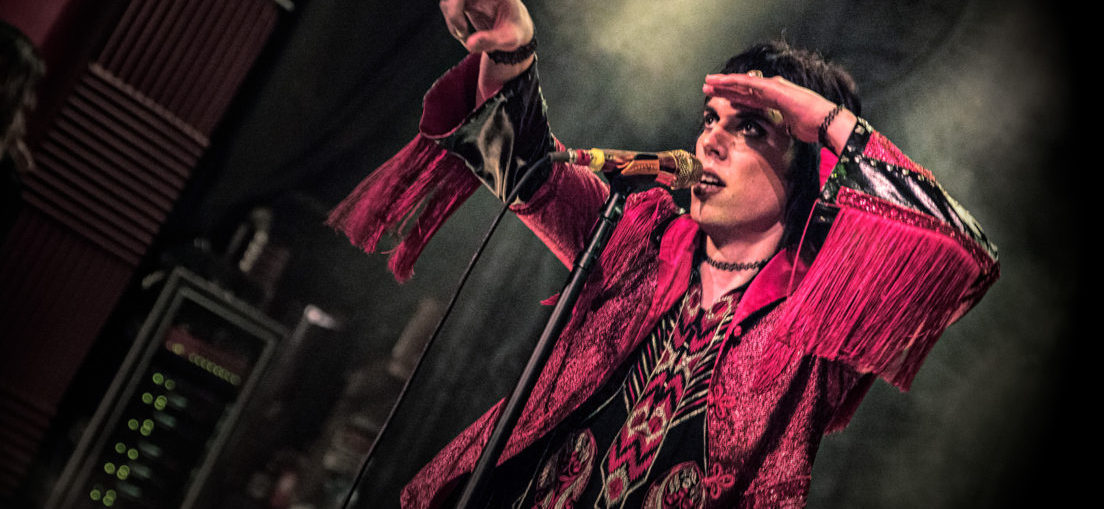 Article and Photos by: Linda Carlson
Indianapolis, IN – The Struts squeezed in a few smaller venue performances between opening gigs for Foo Fighters, making a stop at The Vogue in Indianapolis on November 5th.
Opening band Nightly, based in Nashville, appropriately started the night with great energy and sound.  Their song "XO" from their first EP Honest, was a particular hit with the audience.
Then, the headliners…The Struts.  Let's just put it out there…a Struts performance can be summed up with one exclamatory word: Fun!
All four bandmates hale from the UK, making The Struts a British invasion of sorts.  Lead singer Luke Spiller has the most dynamic personality on-stage, routinely addressing the crowd and encouraging fan reaction and cheers, constantly moving around the stage.  He is known for his flashy costuming and dramatic gesturing, which heighten the concert experience.  Guitarist Adam Slack, bassist Jed Elliott and drummer Gethin Davies complement Luke's flamboyant onstage personae.
The intimate Vogue venue allowed fans to feel a closeness with the band that you don't get at larger stadium venues.  Their catchy tunes ("Kiss This," "Dirty Sexy Money," "Could Have Been Me") had the crowd singing at the top of their lungs – shouting, really – and the band seemed to really appreciate the love.  They also performed an impromptu cover of David Bowie's "Rebel, Rebel" that had the crowd rocking.
The Indianapolis show was followed by a one-day break, and The Struts are back on tour with Foo Fighters until mid-November.  They have a December 8 show lined up for San Diego, CA (with Rise Against, The Used and Highly Suspect).  Check their website as more concerts are added to their schedule: https://www.thestruts.com/tour